Slavic Linguistics Forum
The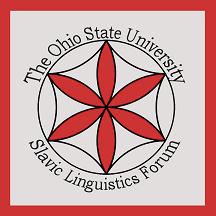 Slavic Linguistics Forum is a research discussion group for linguists interested in the Slavic languages. It is open to any interested person and offers opportunity for members to present original research, obtain feedback in a friendly setting, discuss linguistic topics related to the Slavic field, and to learn more about the professional field of Slavic linguistics.
The group meets weekly during autumn and spring semesters. At the meetings, a group member (student or faculty) usually presents their research in progress. Once a semester a meeting is devoted to a professionalization topic. The group also sometimes chooses a paper to read and discuss.
The Slavic Linguistics Forum also organizes the Graduate Colloquium on Slavic Linguistics, an annual conference that draws participation from OSU and other universities, and gives graduate students a chance to network and receive feedback on their research.
2014-2015 officers:
President: Katya Rouzina
Vice-President: Ryan Perkins
Treasurer: Hope Wilson
Faculty advisor:
Andrea Sims
The 11th Graduate Colloquium on Slavic Linguistics took place October 12, 2013: Conference program
The 12th Graduate Colloquium on Slavic Linguistics will take place November 15, 2014. The call for papers is available here.
To receive the weekly meeting schedule and other information related to this group, sign up for the mailing list: http://mail.ling.ohio-state.edu/cgi-bin/mailman/listinfo/slavicforum