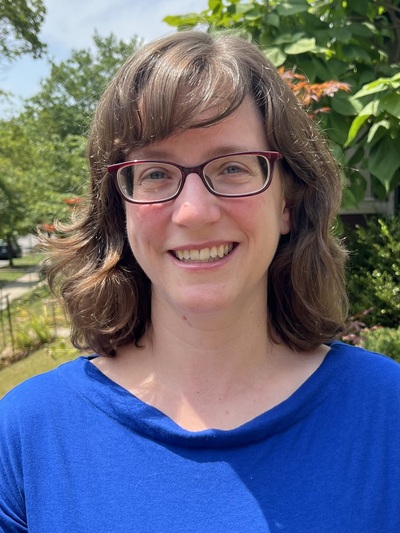 Andrea Sims
Associate Professor
314 Oxley Hall (office) & 100 Oxley Hall (mailing)
1712 Neil Avenue
Columbus, OH
43210
Office Hours
Spring 2020: Fridays 9:00AM-12:00PM
Areas of Expertise
Morphology
Emergent properties of inflectional systems
South Slavic / Russian linguistics
Structure of the lexicon
Education
Mellon Postdoctoral Fellowship, Northwestern University, 2006-08
Ph.D. in Linguistics, The Ohio State University, 2006
M.A. in Russian Linguistics, The Ohio State University, 2003
M.A. in Linguistics, The Ohio State University, 2001
A.B. in Anthropology, The University of Chicago, 1999
Joint appointment with the Department of Linguistics
Affiliated with the Center for Slavic and East European Studies
Affiliated with the Buckeye Language Network
Affiliated with the Center for Cognitive and Brain Sciences
Affiliated with the Complexity Community of Practice
Director of the Dynamics of Morphological Systems Group
Personal website: http://u.osu.edu/sims.120
---
My research is in the area of morphological theory: paradigmatic structure; information theory and complexity theory as they relate to inflectional structure; inflectional defectiveness (paradigmatic gaps), syncretism, and other form-meaning mismatches; the structure of the lexicon; affix combinability restrictions; and cross-linguistic differences in morphological organization. I work mostly on Croatian (Serbian, Bosnian, Montenegrin) and Russian.
When morphology develops out of phonology or syntax, a frequent hallmark of this change is the splintering of a single, broad generalization into a series of more fragmentary and morpholexically-specific generalizations. In my research I am interested in the resulting 'idiosyncrasies'. I investigate how lexical distributions shape the emergence, evolution, reinforcement, and generalization of morphological structures, in the context of language use patterns, learning, and processing. I employ a variety of methods to explore these issues, including quantitative corpus methods, computational modeling, and classic linguistic description. Reflecting a 'morphocentric' perspective, I tend to engage with aspects of morphological structure that cannot be reduced to phonology or syntax. 
---
  Inflectional Defectiveness [Cambridge Studies in Linguistics Series], by Andrea D. Sims (Cambridge University Press, 2015)
Paradigmatic gaps ('missing' inflected forms) have traditionally been considered to be the random detritus of a language's history and marginal exceptions to the normal functioning of its inflectional system. Arguing that this is a misperception, Inflectional Defectiveness demonstrates that paradigmatic gaps are in fact normal and expected products of inflectional structure. Sims offers an accessible exploration of how and why inflectional defectiveness arises, why it persists, and how it is learned. The book presents a theory of morphology which is rooted in the implicative structure of the paradigm. This systematic exploration of the topic also addresses questions of inflection class organization, the morphology-syntax interface, the structure of the lexicon, and the nature of productivity. A novel synthesis of established research and new empirical data, this work is significant for researchers and graduate students in all fields of linguistics. 
Understanding Morphology, 2ed, by Martin Haspelmath and Andrea D. Sims (Routledge, 2010)
Understanding Morphology offers students an introduction to the study of word structure that starts at the very beginning. The goal is to shed light on major issues of analysis, so chapters are structured around essential questions: What are the basic units of the lexicon -- words or morphemes? Is there a categorical difference between inflection and derivation? Do the same basic principles apply to both word formation and sentence formation? What makes one morphological rule more productive than another? And so on. To answer these questions, the authors draw on the best research available, discussing a variety of theoretical approaches.
형태론의이해 (Youkrack Press, 2015)
This is a Korean translation of Understanding Morphology, 2ed.
O čem je morfologie (Karolinum Press, 2015)
This is a Czech translation of Understanding Morphology, 2ed.
---
Teaching
The following courses are part of my (semi-)regular course rotation in the Slavic Department:
The Politics of Language in Southeast Europe (Slavic 4597)
Structure of Russian 1 (Russian 5601)
Reading of a South Slavic Language: Bosnian/Croatian/Montenegrin/Serbian (Slavic 5621)
South Slavic Linguistics: Structure of Bosnian/Croatian/Montenegrin/Serbian (Slavic 7622)
Balkan Linguistics: The Balkan Sprachbund (East European 7628)