Body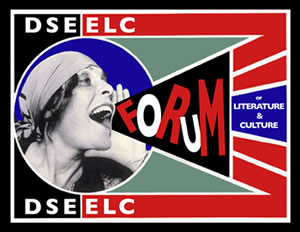 The Slavic Literature and Culture Forum meets regularly throughout the year to hear presentations by outside speakers, faculty and graduate students, discuss topics of ongoing interest in Russian and East European culture, as well as address larger questions and concerns about going into a career in Slavic Studies.
If you are interested in participating in the Forum, please contact Alex Burry (Faculty Advisor).
Here is the schedule for the Spring 2019 Semester:
Lecture on Polish cinema by Dr. Elzbieta Ostrowska (University of Alberta)
April 12, 2:30pm, Hagerty Hall 406
Inaugural Kalbouss Innovative Approaches to Slavic Cultural Studies Lecture: "The Uses of Blackness in Yugoslavia: Dimensions and Legacies of an Idea" by Dr. Sunnie Rucker-Chang
April 19, 2:30pm, Ohio Union; Ohio Staters, Inc. Founders Room
 
Past events have included:
Gleb Tsipursky (Ohio State History Department), "Class-sourcing as a Digital Teaching Strategy in Slavic Studies and Beyond"
September 11, 4pm, Bolz Hall 412
Galya Diment (Visiting Oulanoff Lecturer, U. Washington), "Masters and Servants: Upstairs and Downstairs in Vladimir Nabokov's Russian and English Writings"
October 11, 4pm, Round Meeting Room, Ohio Union


Professionalization Workshop: A Roundtable on Conferences, Writing Abstracts and Research Strategies
October 18, 4pm, Hagerty 406


S. Ceilidh Orr (DSEELC), "The Scrivener De-Scribed"
November 8, 4pm, Hagerty 406


Alex Burry (DSEELC), "The Don Juan Myth in Russian Literature"
November 15, 4pm, Senate Chamber Room, Ohio Union

Job Interviewing workshop (Helena Goscilo, Jessie Labov, Yana Hashamova)
Alex Radsky (CSEES M.A. student), ""Aleskei Vronsky's role in Anna Karenina"
Greg Ormiston (DSEELC M.A. student), ""And in the Fresh Air: Space, Pressure and Relief in Dostoevsky's The Brothers Karamazov"

Steven Norris (Visiting speaker, Miami U), "Blockbuster History in the New Russia: Movies, Memory, and Patriotism"
Mike Furman, (DSEELC PhD student), "A not so iron curtain between activity and knowledge exchange: grammatical metaphor, logic and aspect in the battle against alcoholism"
Mark Lipovetsky (Visiting Oulanoff lecturer, U Colorado, Boulder) Discussion of Charms of the Cynical Reason (2011)
György Túry (Visiting Fulbright scholar, Budapest College of Communication and Business), "The State of Cultural Studies Today"

Dusty Wilmes (DSEELC PhD candidate), "National Identity (De)Construction in the Russian New Wave: Kirill Serebrennikov's Iur'ev Day (2008) and Sergei Loznitsa's My Joy (2010)."

Angela Brintlinger (DSEELC Faculty), "Writing Fiction in Wartime: Ivan Bunin," February 23, 2012.
Helena Goscilo (DSEELC Faculty), "Russian Tattoos: A Talk with Helena Goscilo," May 24, 2011.

Roman Romanchuk (Florida State U), ""Four Ways to Write a Perverse Symptom: Stratagems and strategies of Gogol's Mirogorod," November 29, 2010.
S. Ceilidh Orr (DSEELC PhD Candidate), "Stealing the Scene: Crime as Confession in Robert Bresson's Pickpocket," June 4, 2010.
Frederick White (Memorial University), "The Role of the Critic in the Consecration of Leonid Andreev," February 19, 2010.
Ryan Walker (DSEELC PhD Candidate), ""The Modern Hero in Night Watch: Comparisons of Novel and Film," December 4, 2009.
Jenny Suchland (DSEELC Faculty), "The Making of 'Natasha' and the International Politics of Sex Trafficking," Nov 20, 2009.